Decking & Sunrooms

Decks without screws or splinters.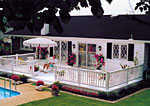 Imagine...a decking surface you can sit, stand or walk on...barefoot! Without splinters! A decking surface that is safe to use rain or shine, because of its slip-resistant finish and resistance to heat build-up. Stop imagining. It's here...Dream®Deck Vinyl Decking System. It's the alternative vinyl decking surface that enables you to eliminate the annual maintenace time and cost from your budget and increase your leisure time.
Dream®Deck Composite Decking System is made of 100% recyclable PVC compounds that eliminate the annual repairs, water-proofing and inevitable replacement costs associated with wood surfaces. Unlike treated wood decking, Dream®Deck Vinyl Decking System is made of a non-toxic, environmentally friendly material.
Dream®Deck and Stair Systems feature a patented crowned plank design that allows water drainage. This is combined with a unique embossing pattern so that there is little potential for slipping. Dream®Deck Vinyl Decking System will not splinter, and it does not have exposed fasteners because it's tongue-and-groove. Plus, the decking's construction prevents it from squeaking during use!
The Dream®Deck Composite Decking System is available with planks, vinyl deck railing and stairs. Choose from white, earthtone and gray plank colors to match your home's exterior. Whether you are replacing an existing deck patio, or building a new one, Dream®Deck Vinyl Decking is the alternative decking product that will make your outdoor life easier and more enjoyable.
See more information on vinyl decking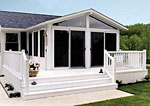 Year round comfort and enhanced living space is now a reality with Dreamspace 3200 All-Season Patio Enclosures and Sunrooms. Opportunities abound with Thermal Industries' beautiful, thermally-broken, life-enhancing patio enclosures and sunrooms. From a recreation area to an exercise room, to a breakfast nook, the possibilities for new living space are only limited by your imagination.
Looking for additional leisure space for just three seasons? Look no further than Three-Season DreamspacE 300 Patio Enclosures and Sunrooms. These non-thermally broken sunrooms are the perfect solution for enhanced leisure space.
See more information on sunrooms
---