Bay & Bow Windows

Bow and Bay replacement windows bring a richness to your home no other windows can match.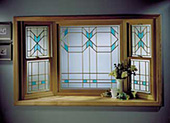 Run your fingers over the smooth, hand-sanded furniture finish of the specially treated birch or optional oak veneers.¦

Choose casement windows or double hung windows for vents to enhance your home's appeal.

Expand your decorating horizons even further with shingled custom hip and shed roof styles for your bow or bay windows.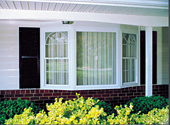 Add Thermal Industries Peak Performance insulating glass package of LoE2, Argon Gas, and PPG Intercept® Warm-Edge Technology to your bay or bow replacement windows. It makes your vinyl windows Energy Star Windows compliant in all four climate regions of the United States. This insulating glass package also provides increased R-Values and reduces sound transmission; all functions to make your home more energy efficient and your life more comfortable all the while saving you money on heating and cooling bills.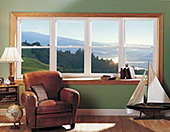 While other bow and bay vinyl replacement windows allow water, dust and grime to collect on the outside sill,Thermal Industries' exclusive over-the-edge, maintenance-free design keeps your bow and bay windows cleaner and longer lasting.

Comfort, energy savings and style are at a premium with Thermal Industries' bow and bay replacement windows.
---